GRP Fibreglass Roofs & Roofing Material Supplies
---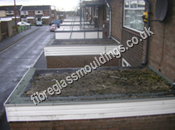 A. Leaking Felt Roof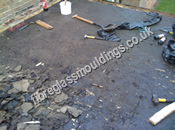 B. Felt being Removed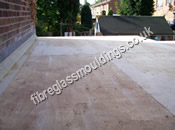 C. New Decked Roof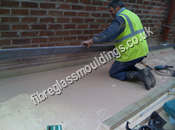 D. Installing Edging Trims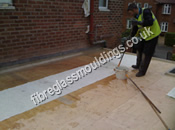 E. Roof being Matted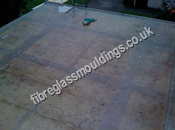 F. Roof Matting Complete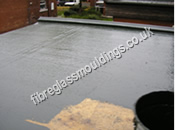 G. Roof being Top Coated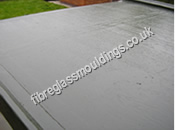 H. GRP Roof Complete
20 Year Guarantee Issued
Architectural Fibreglass Mouldings Ltd in Lancashire offer a range of GRP roofing supplies including fibreglass roofs and roofing sheets that are an effective preventative measure against leaky flat roofs for the long term. Our range of fibreglass roofing sheets, GRP roofing supplies & flat roofs are the most cost effective means of looking after your property, as the durability of the product will off set the cost over time. In choosing a GRP roof, you are choosing to invest in a product that has, since its creation, been used in many applications including boat, car and aircraft construction.
We recommend fibreglass roofing sheets for all sorts of roof shapes including existing flat roofs and garage roofs; the GRP roof can also be applied in the new build process. Since the application of our GRP fibreglass roofs is a cold application, there are no risks during or after the installation of this system and you will be able to enjoy the benefits of your seamless roof system as soon as our fitters leave.
We provide two different GRP fibreglass roof systems which although both are attractive and do not hold water, the application process differs according to the shape and quantity of roofs the fibreglass roofing sheets are going to be applied to. For example, if we were aiming to refit an entire street with GRP roofs we would use system one, where the application can be made even in damp conditions. If however we were looking to make an application to one property especially where the shape of the building is unusual we would use system two.
These are the most popular GRP Fibreglass Roofs we offer. We can manufacture GRP Fibreglass Roofs to suit most applications.
Our customer advisors will be happy to help you get the product you need, so phone us today on 01254 357000. We are based in Lancashire but can offer a nationwide service.
Fitting our fibreglass roofing sheets saves our clients time and money and gives the client a maintenance free grp fibreglass flat roof.
---

Globe Works, Richmond Street, Accrington, Lancashire BB5 0RH.
Tel: 01254 357000 Fax: 01254 357011 Email:
Visits to our production facility are subject to appointments only
---
© 2007 - 2023 Architectural Fibreglass Mouldings Ltd., All Rights Reserved.
Sitemap
Accessibility
Copyright & Legal
Privacy