Technical Specifications
---
WHY GRP?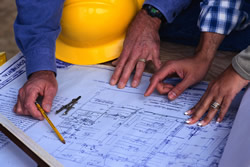 All you need to know about GRP but were afraid to ask...
GRP Stands for 'Glassfibre Reinforced Plastics', also referred to as 'Fibreglass', 'Composite Plastics', and in the USA, 'FRP'. It is an amazingly versatile material, and one that is little understood in industry, but which has truly immense potential across a wide spectrum of applications.
It's vast range of properties can be confusing to the uninitiated. It is a 'Plastic' but it displays few of the disadvantages of conventional 'thermoplastics' in everyday use.
For instance, it will not melt, but will burn in a similar way to wood, but can be easily and cheaply made fire retardant. It is very strong - seven times the flexural strength of steel - yet very lightweight with the tremendous energy absorption properties which have made it a common material for racing cars and boats. Its finish is achieved in contact with a mould surface and takes on the precise texture of that mould. Anything from the highest showroom gloss to the texture of cast iron, stone, or the finest grained wood. Colour choices are infinite, from the complete ranges of BS and RAL.
However, GRP is a moulded product which requires some sort of former or tool from which it is moulded. In it simplest and most common form, know as 'hand-lay', the mould id first prepared with a release wax, similar to car polish. The colour is then applied by brush or spray to the mould face as a 'gelcoat', which is thickened, coloured resin. This is allowed to 'cure' for about 20-30 minutes and is followed by layers of glassfibre matt together with the resin. This can be put down or 'layed-up' by brush, or even sprayed using special machines which 'chop' continuous filaments of glassfibre into specified lengths and blow these down in a spray of resin. The product is then formed by the hardening of the resin and glass matrix into an integrated moulding.
The hardening agent is called the 'catalyst' which is mixed into the resin at precise formulations causing 'exothermic' heat to build up in the moulding. This cures the resin within a normal working time of 20-30 minutes. After about an hour the moulding can be lifted from the mould to be trimmed of excess material and finished as required.
---
GENERAL SPECIFICATION FOR CANOPIES
Gel Coat - DSM Neogel 600 O-L-1 fast cure, pre-accelerated, thixotropic, flexible, isophthatic polyester gel coat for brush application.
| Property | Result | Method |
| --- | --- | --- |
| Tensile strength Mpa | 68 | ISOR 528 |
| Flexural strength Mpa | 125 | ISO 178 |
| Impact strength (J) | 1.2 | ISO 180 |
| Water absorption (1 day) mg | 22 | ISO 62 |
| Water absorption (7 day) mg | 50 | ISO 62 |
Chopped strand matt laminates containing 2 piles of 450 g/m E-glass with a resin to glass retention of 2.25.1. Cured at room temperature. Laminate weight nominal 3.80 kg/sqm.
Gel coats contain UV inhibitors to minimise colour degradation. Laminates are to fire rating, general purpose BS 476 Part 7. Higher rating as requested. Load testable to BS 6399. Made up structures e.g. Door Canopies will support the average weight of an adult.
Structural requirements must comply with current BS 6399 Part 1 with a marine ply fixing plate through the full length of the canopy.
Canopy to be bedded on silicone or other approved then plugged and screwed into sound brickwork. Screw fixings to be fitted with mudwing washers (i.e. 40mm o/d 6mm i/d 2mm thick).
External fixing to be covered with colour co-ordinated plastic caps, screws to be zinc plated to BS1706 class C (AN2) with yellow chromate passivate or stainless steel.
Primary fixing to be by rawlbolt or similar (always use mudwing washers on these). This applies to the Strand, Roman and Georgian style of canopies.
Strength
All the products are designed to withstand extreme weather conditions and climate changes. The canopies are made to withstand point loads of 50kg.
---
TECHNICAL SPECIFICATION FOR CANOPIES
General Construction:
A Glass Reinforced Polyester (GRP) composite canopy formed on moulds. Provided as a one piece soffit and fascia with slot on roof.
Material Specification:
GRP to comprise a laminated structure using emulsion bonded C.S. Matt with an average MPA of 493 and allowing a resin to glass ratio of 2:1. The resin to be a general purpose unsaturate L.S.E. orthopthamic polyester resin. Typical density 1.1kg / dm3 ISO 2811. Composite layers to be built up using 450gm or 600gm layup or combination of both. In areas of precise reinforcement to achieve performance use of a core Matt inerlayer should be used. For external weathering use of a high quality polyester general purpose isopthaic Gel coat pigmented to chosen colour and incorporating U.V. stabilisers. All laminate construction to allow adequate curing times based on using an MEKP catalyst activator and in certain areas adequate post curing at specified temperature.
Canopies dependant on size will be suitably baffled internally using W.B.P plywood or high density p.u. foam.
Canopies incorporating two piece roof / soffit will incorporate suitable location method to secure roofs to soffits.
Canopies must incorporate suitable fixing flange or specific fixing locations as appropriate. A lead effect upstand must be incorporated. See fixing specification for specific fixing detail.
General Finish:
Roof finish has a riven appearance an can be finished with a choice of straight or scalloped edging. Soffit details has a smooth finish to all faced and the soffit includes a sculptured fascia detail.
Colour:
Any BSI colour availability.
Standard Colour: Soffit white - Roof smooth grey
Dimensional Characteristics
The Georgian canopy is available in any length up to 4.0 roof size in one piece with a projection of 750mm roof size.
Note: Soffit dimension due to sculptured detail will be 90mm less in projection and 180mm less over all on length from roof sizes. (There are many variations to the above)
Special Features:
Built in drip detail on soffit
Sculptured Fascia
Choice of roof edge detail
Optional Features:
Choice of decorative leg brackets (large or small)
Optional rainwater channel
Optional square edge or scalloped roof
Option to have fire rated material to BS 46 part 7
Performance Criteria / Specification
General - Provide adequate over door weather protection
Strength - The canopy should be self supporting without the need for leg brackets
BSI Compliance - Specification related to appropriate British / ISO standards or specific parts
BSI 476 Part 7
BSI 480 Colour
BSI 6399 Loading
---
FITTING SPECIFICATION FOR CANOPIES
Health & Safety
Adhere to all relevant Health and safety regulations when fitting canopies using staging or scaffolding where required and the wearing of appropriate PPE.
Preparation
Ensure where canopy is to be fitted is free of debris and protrusions and that any fitting, e.g. lights, along with any cables, pipe work etc., which may impede the fitting of the canopy have been relocated unless the canopy has been designed to accommodate such fittings.
Check all critical dimensions and ensure canopy is the correct size.
Fixing
This canopy has been designed for fixing through the back plate and the roof upstand flange into the wall at centres of no more than 400mm apart.
We recommend the use of 6mm Hammer fixings and/or 8mm rawlbolts for ease of use and speed of fitting.
Use caps and washers which must be ordered separately if required.
Offer up the soffit to the wall ensuring it sits flat and level.
Drill through the fixing flange at no more than 400mm centres.
Using Hammer fixings / rawlbolts through holes and take care not to hit soffit or damage cap washer.
Slide roof onto soffit ensuring metal pins on inside front edge of roof locate with pre-drilled holes in front of soffit.
Once the roof is in position drill and fix through the upstand flange at no more than 400mm centres and use hammer fixings / rawlbolts to fix canopy to wall.
Use caps and washers which must be ordered separately if required.
The fixing flange may be trimmed to fit around obstacles if required.
Sealing
Mastic seal all edges with a low modular sealant, e.g., Rhodsil 3B or equivalent.
CDM Regulations
Contractors are responsible for producing their own method statement in line with any CDM regulations.
COSHH Regulations
GRP can be cut and trimmed by a variety of methods, but care should always be taken to protect the Gel coat surface. When cutting and trimming a fine powdery dust is created and operators should work in a well ventilated area and use a filter mask for protection.
Recommended cutting equipment would be an appropriate diagrit diamond cutting tool.
---
FITTING SPECIFICATIONS FOR FLAT ROOFS
In order to ensure that your GRP Fibreglass Roof - AFM system will last a life time and provide a totally waterproof solution, we take many steps in the application process.
A typical flat roof job specification would be :-
All existing stone chippings, felt coverings etc. will be cleared from the roof area. Substrate, usually chipboard, will then be stripped to expose the main roof joists.
Roofs suffering from poor drainage will be dealt with, usually by the use of timber firring pieces fitted to existing joists to give a fall to the new deck.
The roof are will then be re-decked with 3/4" (20mm) exterior Grade Plywood which will be securely anchored with3" annular ring shank nails and /or 3" plated wood screws.
Specially made, pre-moulded, edging trims, wall fillets, gully mouldings will be fixed in position.
Glassfibre mat of 4oz / sg.m density will be tailored to fit the whole roof area. The mat will then be impregnated with polyester resin onto the new deck to form a seamless GRP membrane.
Once curing time has elapsed, usually between 1- 4 hours depending on ambient temperature, a polyester resin gel coat in a chosen colour will be applied to the whole roof area.
Where a flat roof meets a brick wall, a chasing will be cut into a chosen coarse approximately 1.5" deep. Glassfibre and resin flashing will be tailor made to fit into the chasing. The chasing will then be re-pointed with conventional sand / cement mortar.
Where a flat roof meets a tiled roof, as in the case of a dormer construction, Glassfibre membrane will be extended up and under the tiled roof area between 6-12".
All waste material and debris will be removed from site by our staff.
Finally the owner shall be issued with a Guarantee which will cover the cost of all materials and labour.
Contact us - complete a simple form and request a no obligation survey, carried out by our own surveyor, to locate any existing faults and supply a schedule of recommendations, remedies and a quotation.
---
COLOURS
GRP Canopy Tile Colours

Smooth Grey
Slate Grey
Smooth Brown
Tile Red
Dark Terracotta

Soffit Colours

Light Oak
Dark Mahogany
---
Fitting Specification for Canopies

Fitting Instructions for Combi Georgian and Roman

Fitting Instructions for Strand Cottage and Country

Fitting Instructions for FSW
---
Measuring Instructions

Measuring Instructions for Hipped Bay

Measuring Instructions for Square Bay.pdf

Door Canopy Measuring Instructions
---
Vandalite® GRP Fibreglass Sheet

Vandalite® Brochure & Specification
---
---

Globe Works, Richmond Street, Accrington, Lancashire BB5 0RH.
Tel: 01254 357000 Fax: 01254 357011 Email:
Visits to our production facility are subject to appointments only
---
© 2007 - 2023 Architectural Fibreglass Mouldings Ltd., All Rights Reserved.
Sitemap
Accessibility
Copyright & Legal
Privacy